Laptop
September 2023 - Laptops compulsory for all students
Distance learning continuity from the first term in March 2020
During the health crisis, ESIEE Paris maintained its teaching from the first lockdown in March 2020. The school innovated by creating links between students, particularly between first-and third-year students. Building on this experience, ESIEE Paris requires all new students to have a laptop.
Consequently, all ESIEE Paris students, from first to fifth year, on full-time and apprenticeship courses, must have their own laptop for September 2023.
This will enable all students to connect to the ESIEE Paris teaching platform whenever necessary. Students will also be able to install programs requiring licences and virtual machines on their laptops.
Support
In the case of financial difficulties, CROUS grant holders can request financial support from ESIEE Paris for a sum of €200. This sum will be paid on request and subject to presentation of the documents requested in the form. Requests are to be made via this form (in french) and must be sent to ordinateurpourtous(@)esiee(.)fr. The sum will be paid at the start of 2024.
This sum will only be paid once during the study period.
Other support is available for student grant holders entering their first year of higher education, for example from the Ile-de-France region.
Different support is in place for apprentices. Apprentice Training Centres (CFAs) can lend IT equipment to apprentices thanks to a government-funded scheme. ESIEE Paris is part of this scheme. Apprentices who do not have their own computer of sufficient specifications or one provided by their company can borrow one from the school.
Once they have signed their apprenticeship contract, they must obtain a signed statement from their company stating that it does not provide laptops and can then apply to borrow a computer from the school at the start of the school year.
The school will lend the student a laptop with the minimum specifications. A deposit cheque for €500 will be requested and returned at the end of the school year subject to the return of the loaned computer in good condition. Apprentices can renew their loan request the following year. The school will not provide maintenance for this equipment.

To apply to borrow a computer (for apprentices), download this document (in french) and send your completed application to vieassociative(@)esiee(.)fr
Loans are subject to availability.
Refurbished laptops - offer by Université Gustave Eiffel
As part of its sustainable development approach, Université Gustave Eiffel has set up a scheme with ECODAIR to allow students to buy reconditioned IT equipment tailored to their needs and at affordable prices. They can also benefit from a 10% discount on all services. This offer is available now. https://www.ordinateur-occasion.com
Laptops - Université Gustave Eiffel partnership with DELL
Université Gustave Eiffel has set up a partnership with DELL to allow all students to benefit from discounts of 5 to 30% on new equipment. https://www.dell.com/fr-fr/shop/dell-advantage/cp/students
How do I know if I need to buy a laptop?
All brands offer models to match the specifications required.
"Minimum" specifications - Prices between €700 and €1,000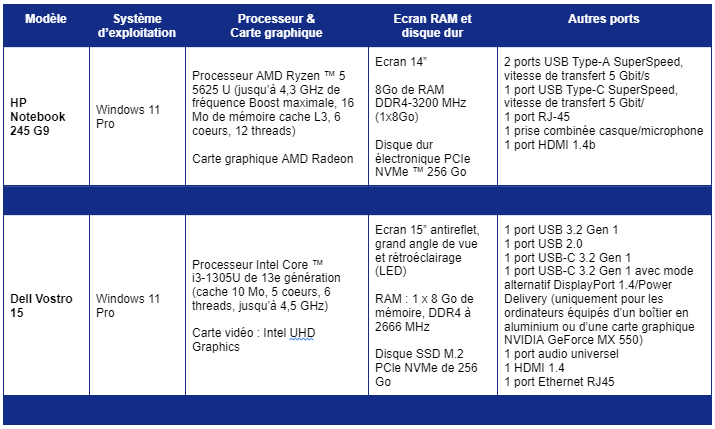 "Recommended" specifications - Prices between €1,000 and €1,300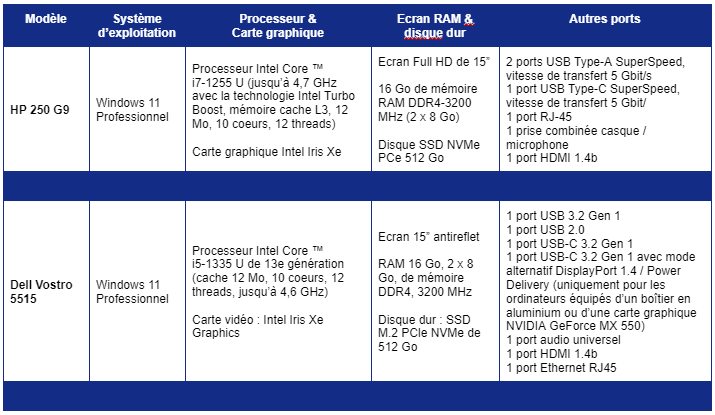 "Premium" specifications - Prices between €1,300 and €1,700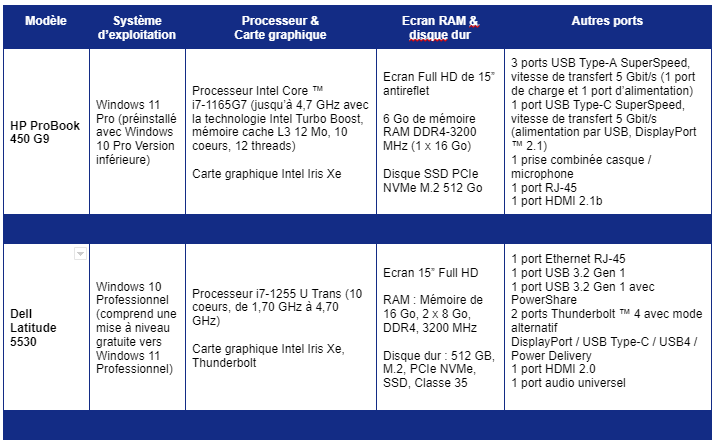 For more information, please email ordinateurpourtous@esiee.fr, stating your surname, first name, course of study and telephone number.